About me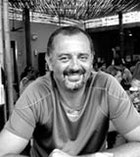 Marco Simola

Birthday: 30.5.1965
City of birth: Firenze
City where I live: Lima
I'm Italian, I was born in Florence.
I am a freelance photographer currently based in Lima, Peru and available for assignment worldwide. I'm oriented toward investigation of social realities, communities and identity related issues.

I got my first Nikkormat FTN when I was 15.
Expo and publication
My works were exposed in galleries in Italy, Peru, Spain, UK, France, Brasil, Poland and in some virtual galleries in Internet.
2010 December.
Expo "Un techo para mi pais", in the Kennedy park of Miraflores, Lima, Peru.

Expo in Cusco. 5 photos selected for CuscoArt#1.
Day Four Ulysses2 in London.
2010 November.
Photography Colony Project. One World, one second, multiple moments

Swiss web magazin Religioscope publish an article and many photos with the title "Dia de los Difuntos in Lima and Cuzco".
Mostra fotografica "Il bello fa bene", a Bologna Italy.
A photo of the expo "Il bello fa bene" is published in La Repubblica website. 
2010 October. I got the front page of Demotix webpage. 
2010 September.
One Planet. Lonely Planet's mosaic competition. Selected as one of the 200 finalist among over 130.000 photos
BVL (Bolsa de Valores de Lima). Selected as one of the 37 finalist among 651 participants.
People & Planet. Selected as one of the 54 finalist among over 4,000 images from about 1,000 photographers from 82 countries around the world!
2010 June. Inauguration of the Exposition STATE OF CREATION on June 16, 2010 June, 17 - July 9 2010 European Commission Luxembourg, Conference center, Jean Monnet Building  
2010 May. Selected between the winners of the STATE OF CREATION Award organized by Culture Inside, Luxembourg.
2010 April.
My work, "Bolinavidad 2009" has been selected to participate to the

10ª Muestra Documentales y Fotografías de América Latina. The exhibition opened its door from 23th April to 8th May in Langreo, Asturias Spain.

 

FOTOCACERES. Opticas Iberoamericanas. Merida, España.

ReVista, Harvard review of Latin America, prestigious magazine of the David Rockefeller Center for Latin American Studies of the Harvard University, published an article with two photographs.

http://www.drclas.harvard.edu/publications/revistaonline/spring-summer-2010/modernity-peru
Four images selected in the new issue of F-Stop Magazine.
2010 March.
Selected amongs the finalists on the L'Esprit Photo Exhibition at the Hoover Skwer on Krakowskie Przedmiescie 60A in Warsaw, Poland.

Selected amongs the 50 finalists on the first International Pixpa Photo Challenge,

http://www.pixpa.com/retrospect2009/

.
2010 February. 
2010 January. Exhibition at Vertice Gallery in Lima
2009 December. 
JPG On Line Magazine, publish an essay about the work of Doctores Bola Roja during Xmas time in a couple of hospitals in Lima.
Plateform Magazine publish a reportage about the work of Doctores Bola Roja in Iquitos, Peru.
Bronze Award at International Aperture Award in Landscape and People and Portrait categories.
2009 November. 
I was

 

selected among the campaign's 50 best photographs! of the

 

Humanizing Development Global Photography Campaign

 organized by UNDP

FOTOCACERES. Opticas Iberoamericanas. Badajoz, España.
Witness Journall publish reportage about the work of Bola Roja Doctors in Peru.

www.phe.es/blogsandisk/

 public 18 photos of serie "Metro". 

Demotix

 webpage publish my reportage about "The Day of dead" in their Homepage. Some days after published another reportage about a march for Peace in Lima

I was invited to participate to UNICEF Photo of the Year 2009 Award
2009 October. 
Italian Magazine "

LATITUDES

" publish a large reportage about Lord of Miracle Procession in Lima, Peru 

"NOCHE DE ARTE" exposure in Lima, Peru.

"ART FEST" Opening party with 80 Artists.

 

Lima Peru

FOTOCACERES. Opticas Iberoamericanas. Caceres, España.
2009 August. Que Pasa Magazine of Chile published an article titled "La revancha de los ejecutivos peruanos" containing my photographs.
2009 July. Frame Lines Australian On Line Magazine publish 10 photo of the serie Landscapes
2009 June. Napoli (Italy) "VENTIPERVENTI" - terza edizione – 2009. Lineadarte - Officina Creativa
2009 May. BEAUTIFUL LANDSCAPES Exhibition in 3 Bedfordbury Gallery, Covent Garden, London.
2009 March. BE BOHEME Exhibition in Asia Beach, Lima Peru, together with other 9 peruvian photographs.
2008 October. "NOCHE DE ARTE" art exposure in Lima, Peru.
2008 July. 
I've won the Web Community Award in the International Fahrenheit Photo Competition sponsored by Christian Dior Paris.
"SIPOPSIS" Exhibition, Coco de Mar Gallery, Lima, Peru.
2006 November. Spazio 10 gallery in Ivrea (Italy). Solo exposition of "Metro".
More Info
2009 April. I publish my first photographic book, Metro. About the subway of the Italian city of Milan (http://www.blurb.com/bookstore/detail/658466).
2008 November. I got the possibility to participate, in Lima, to a very interesting two days workshop with Spanish photographer JUAN MANUEL CASTRO PRIETO.
2006 April. I got a one day workshop in Milan with American photographer STANLEY GREEN.
As a free-lance my photographs have appeared in many European on-line and written magazines such as Plen Air (Italy), Que Pasa (Chile), Religioscope (Swiss),Manzarock (Peru), Il Mondo, RevolutionArt, Latitudes, Asociacion Fotografica Manises (Spain), Zapping Peru, ZoneZero.com, Frame Lines, Demotix.com,Nuestramirada.org, Witness Journal (Italy), Plateform Magazine (France), cameraobscura.ro, F-Stop Magazine, 
 worthathousandblurbs.com, Caposud (Italy), Burn Magazine, ReVista, Estadao (Brasil),  http://www.voltapagina.name, Le Monde Diplomatique (Norway) etc.
I'm collaborating with: